Gilman
Christian Women Rosary Society
Our Mission
Formally known at Gilman Christian Mother's Rosary Society, the Gilman Christian Women Rosary Society's mission is to be a place for all Catholic women of Gilman to gather. Grandparents, Parents, Single, or Married – All are welcome to join in sharing our devotion to Mary and her beloved son Jesus Christ. Through the rosary, Mary is a guide for all catholic woman to live a life of honor and dignity.
Meetings
Christian Women meet the 1st Monday of the following months at 7:00pm: February, April, June, August, October and December.
Reminders and other announcements can be found in the weekly bulletin.
Officers
Joyce Belanger
Beth Kipka
Teresa (Terri) Janson
Gilman Christian Women Members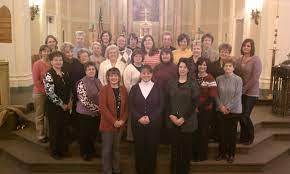 Gilman Christian Women Members