Welcome to the Parishes of
St. Elizabeth,
Sts. Peter & Paul
and St. Joseph
Announcements & Important Information
---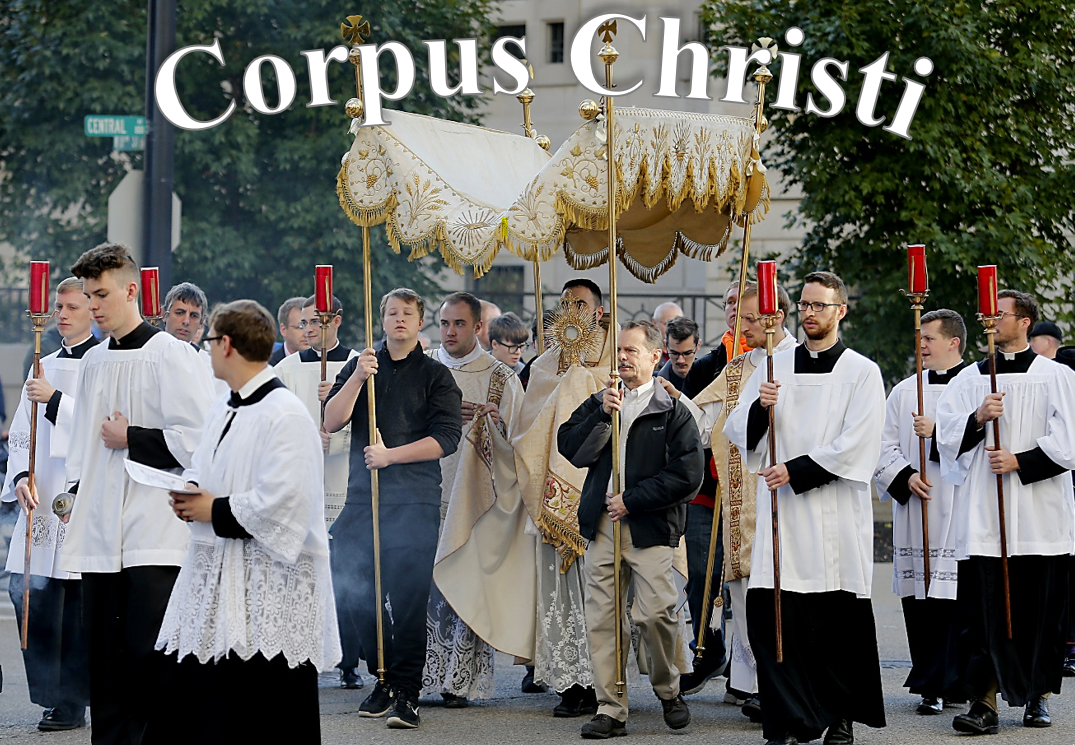 Procession starts at 1:00 P.M. from Saints Peter & Paul Church
Sunday, June 11th is Corpus Christi, also known as the Solemnity of the Body and Blood of Christ. This feast started with St. Juliana of Mont Cornillon, in Belgium. It was her devotion to Jesus in the Eucharist and a vision given to her about the need of such a feast day in the life of the Church. She brought this to the attention of her bishop, Robert de Thorete. His successor, Jacques Pantaléon, would pick up this celebration after him. Jacques Pantaléon, would go on to become Pope Urban IV who instituted this feast day for the universal Church. In 1263 a priest from Germany doubted the real presence of Jesus in the Eucharist while celebrating Mass in Bolsena, Italy. It was after he said the words of consecration that the host which he held in his hands began to bleed. Pope Urban IV happened to be in the neighboring town of Orvieto. The host, along with the corporal which soaked up the blood, was brought to the pope. After this, St. Thomas Aquinas was commissioned by the pope to write the hymns for Corpus Christi, which we still sing to this day. The corporal with Christ's blood is carried through the streets of Orvieto every Corpus Christ feast day. Please join us as we process with Jesus through the streets of Gilman beginning at 1:00 P.M. It should only take about 90 minutes. Adoration will be held directly after the 8:00 A.M. Mass at Sts. Peter & Paul on June 11th, you are welcomed to stay and pray during this time until we pick Jesus up at 1:00 P.M. Let us follow Christ who is our head and savior.
---
---
St. Elizabeth Church
Parish Festival – Brennyville
SUNDAY JUNE 25, 2023
Mass at 10:00AM
– St. Elizabeth Festival Flyer –
– Festival Gun Raffle List –
Workers are still needed for the St. Elizabeth Festival – setup on June 24th and for the Festival on June 25th. Signup sheets are available at the back of Church at St. Elizabeth.
---
2023 Baccalaureate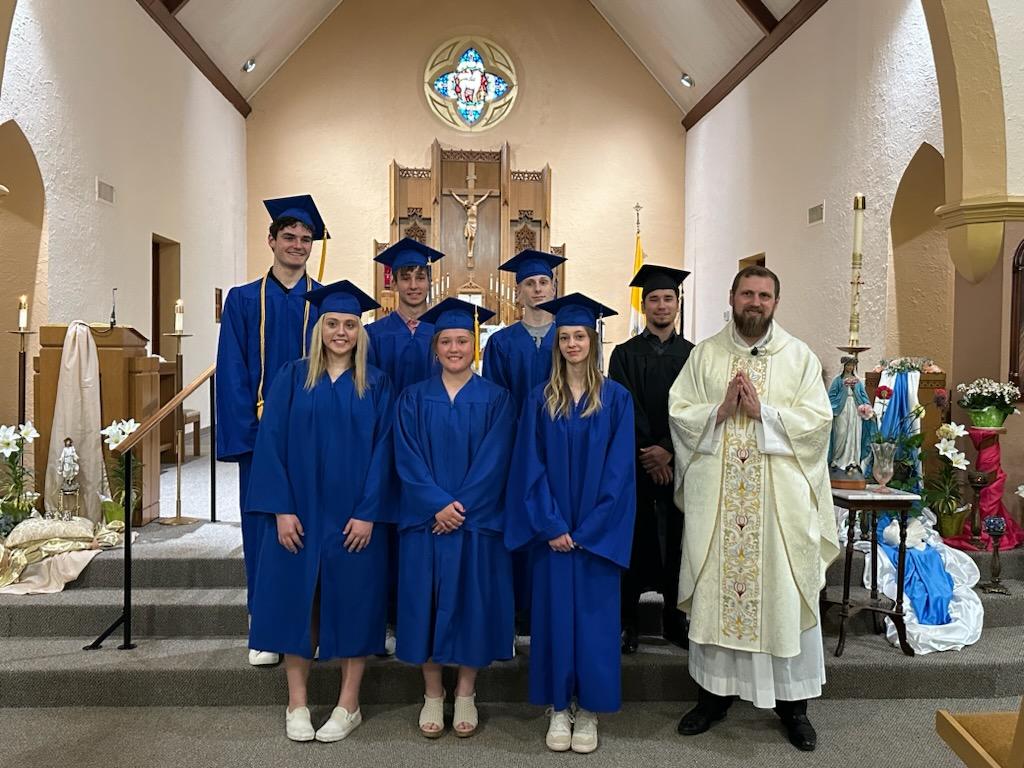 ---
Faith Formation
St. Joseph First Communion 2023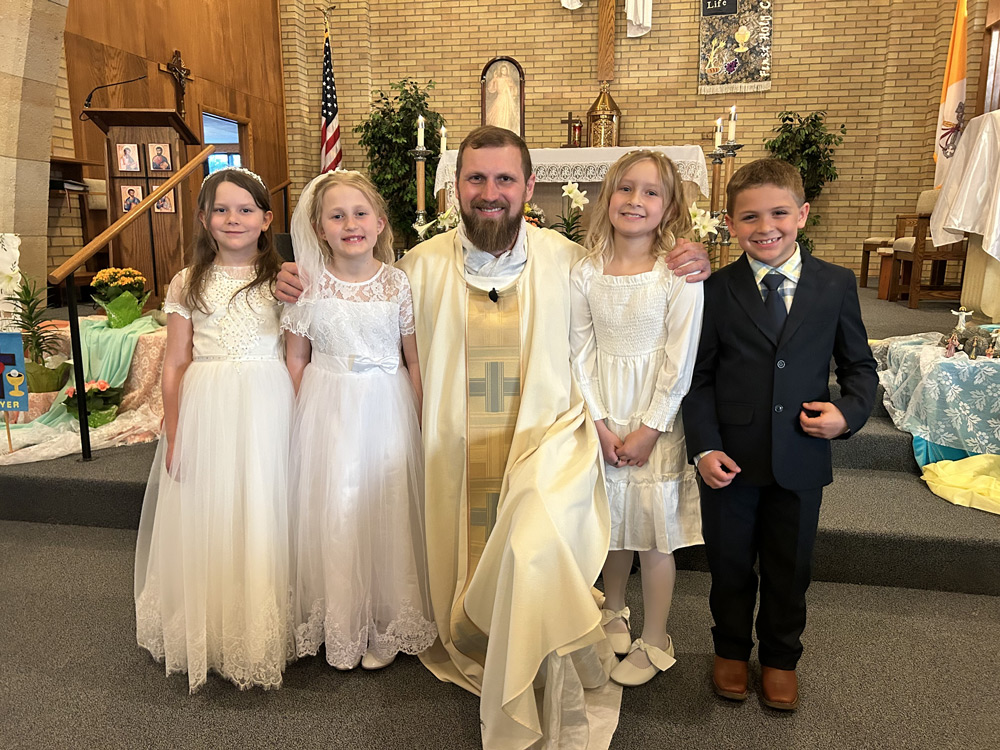 St. Elizabeth First Communion 2023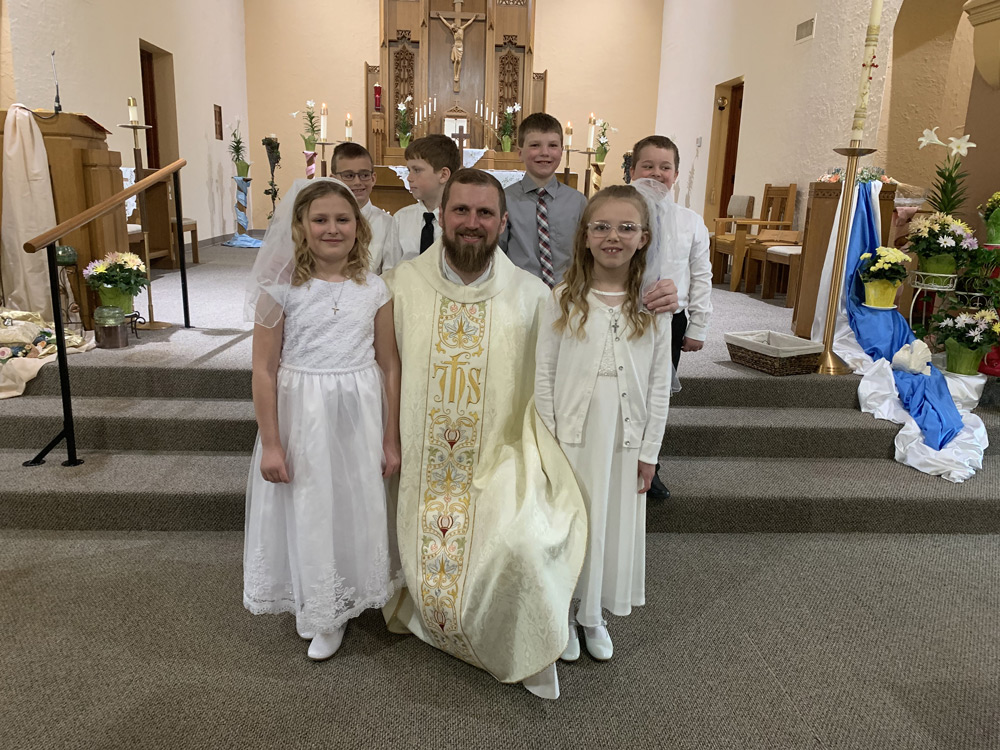 ---
Contributions
How can I continue to contribute to my parish if there are no Masses?
We are all under greater pressure during these trying days, spiritually, emotionally, and financially. I understand if you are not able to contribute financially as you have in the past, but I ask that you continue to support your church as you are able since these times also place a greater strain on our parishes.
You can continue to contribute to your parish by mailing in your envelope to our office at P.O. Box 86 Gilman, MN 56333 or by making an automatic contribution by filling out the following form. Thank you for your continued support.
Auto Contributions for your
Sunday Collection Offering – Direct Payment form
---
Our Mission
The Mission Statement of the Churches of Sts. Peter & Paul, St. Elizabeth, and St. Joseph
We, the Roman Catholic Communities of Sts. Peter & Paul in Gilman, St. Elizabeth in Brennyville, and St. Joseph in Morrill, Minnesota, participate in the Mission of the Diocese of St. Cloud and the Universal Church for the glory of God the Father. We are members of the living Body of Christ here on earth to carry out the mission of Jesus Christ, by proclaiming the Gospel, by celebrating the Sacraments, by strengthening the faith of our families, and by serving others.
In our relationship with God and one another our goals are to:
-Worship God through Jesus Christ centering on the Eucharist.
-Encourage, teach and support spiritual growth to people of all generations.
-Invite each parishioner to share their time, talent, and treasure with the church.
-Spread the message of Jesus Christ by works of charity, justice, and evangelization.